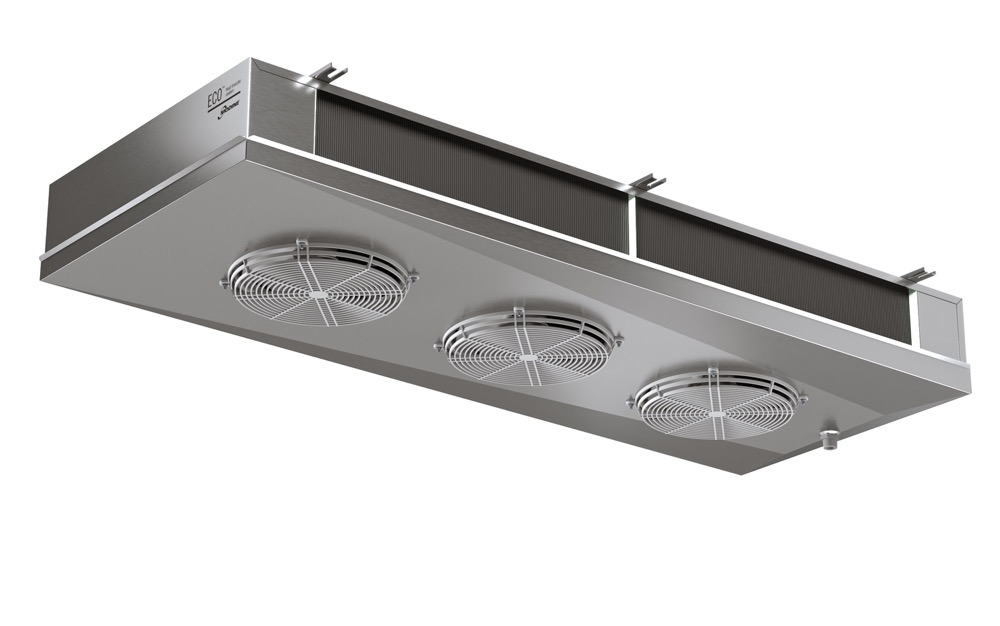 Applications
Commercial refrigeration cold rooms
Low ceiling commercial refrigeration cold rooms
Food processing rooms (fresh and sensitive products, sea food, meat)
Capacity Range
EMEA:
Unit coolers: from 1,8 to 34,5 kW
Brine coolers: Please use Scelte selection software 
APAC:
Unit coolers: from 2,2 to 35,2 kW
Brine coolers: Please contact us
Overview
The dual discharge GDE range has been specifically designed for cold rooms with limited height for the preservation of fresh or frozen products and in food preparation and handling.
EMEA: Range consist of 48 customizable models
APAC: Range consist of 30 customizable models
According to the room temperature the range is divided as follows:
GDE 3 for higher temperatures (≥ 5 °C) with 3 mm fin spacing, designed for work rooms with no possibility of ice/frost formation on fins
GDE 4 for medium temperatures (≥ 1 °C) with 4 mm fin spacing
GDE 7 for lower temperatures (≥ –25 °C) with 7 mm fin spacing, electric defrost version (ED) is recommended
On request the models can be equipped with non-standard: coils, defrosting and fan motors.
Coil Features
The entire range is equipped with highly efficient coils made from aluminum fins and inner grooved tube. Thanks to a new geometry there is a substantial reduction of the inner volume resulting in a decreased refrigerant use. The updated coil design responds to the recent guidelines governing the reduction of HFC gases with high greenhouse effect (smooth tube for brine coolers).
Casing
Casing Features Made of a magnesium aluminum alloy, with a smooth finish covered by a plastic protection film
Fan Motors
The standard AC fan motors employed have the following features:
Ø 315 mm
fan motor module: from 1 to 6
dual speed
external rotor
single phase dual speed 230V/1/50-60 Hz
built-in electric capacitor
fibreglass charged polyamide fan guards
Ø 350 mm
fan motor module: from 1 to 5
external rotor
single-phase high speed (4 or 6 poles) 230V/1/50-60Hz
built-in electric capacitor
epoxy coated steel fan guard
The optional high efficiency EC fan motors have the following features:
Ø 315 mm
fan motor module: the same as AC fan motors
external rotor
single phase dual speed 230V/1/50-60 Hz
fibreglass charged polyamide fan guards
Ø 350 mm
fan motor module: the same as AC fan motors
external rotor
single phase 230V/1/50-60 Hz
fibreglass charged polyamide fan guards
speed regulation with 0-10V signal
Defrost
The electric defrost (ED) versions are equipped with stainless steel heaters with vulcanised terminals preset for 400V/3/50-60Hz connections
Wiring
The versions with standard electric defrost (ED) are equipped with stainless steel heaters with vulcanised terminals preset for 400V/3/50-60 Hz connection The electric parts and casing are connected to a earth terminal The wiring of the motors and heaters is carried out in separate IP 54 protection grade junction boxes
Certifications
CE
PED
EAC
TÜV SÜD (Please see cerfified model list on the catalogue)
Published Data
EN 328 reference standard
Nominal capacity assessed in practical operating ambient i.e. in wet conditions
Refrigerants:

EMEA: R448A refrigerant (media glide)
APAC: R404A refrigerant
air inlet temperature 0 °C
evaporating temperature –8 °C
TD 8 K
Contact Modine For More Information