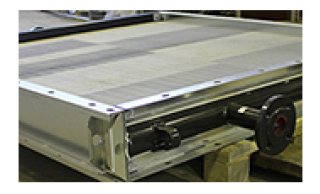 Overview
The QMAF coils with 3/4" tubes are designed for heating of air by means of steam in applications involving high temperatures.
Features
The QMAF consists of 3/4" electro-galvanized steel tubes and fins made of sheet steel coated with zinc and aluminum to Weight Class AZ 150 as per ASTM A525. The headers and connections are made of anti-corrosion painted steel.
The coil casing is made of galvanized sheet steel.
The coil casing is made of 2 mm galvanized sheet steel (to special order, the connection flanges of the casing can be provided with 15 x 24 mm mounting holes).
The coils are available with different fin pitches in sizes up to 4.0 x 2.4 m for horizontal airflow.
The QMAF is provided with connection pipe size DN 50 for welding to the connecting pipework.
On the air side, the coil shall be provided with a casing made of galvanized sheet steel. The casing shall have connection flanges.
The design conforms with the Pressure Equipment Directive 97/23/EC.
All the components of the product conform to Corrosion Resistance Category C3 in accordance with ISO 12944.
Contact Modine For More Information