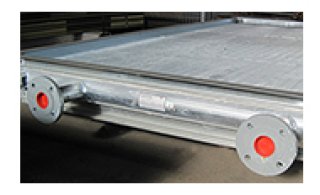 Overview
The QMAA coils with 3/4" tubes are designed for heating of air by means of steam involving high temperatures and for environments in which hot dipped galvanized steel are necessary.
Features
The QMAA consists of 3/4" tubes and fins made of hot dipped galvanized steel.
The coil casing is made of 2 mm galvanized sheet steel (to special order, the connection flanges of the casing can be provided with 15 x 24 mm mounting holes).
The coils are available with different fin pitches in sizes up to 4.0 x 2.4 m for horizontal air flow.
The QMAA is provided with connection pipe size DN 50 for welding to the connecting pipework.
On the air side, the coil shall be provided with a casing made of galvanized sheet steel. The casing shall have connection flanges.
The design conforms with the Pressure Equipment Directive 97/23/EC.
All the components of the product conform to Corrosion Resistance Category C3 in accordance with ISO 12944.
Contact Modine For More Information