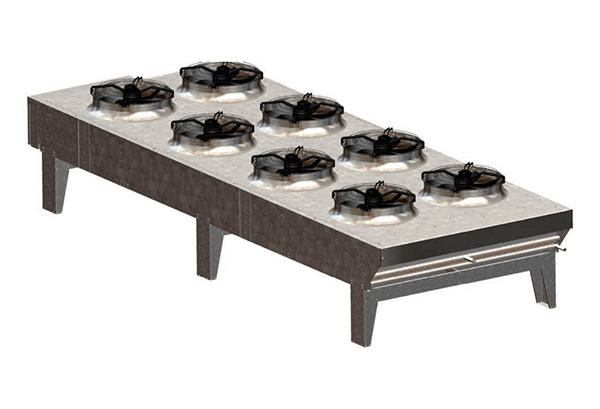 Applications
Commercial AC
Refrigeration systems
Capacity Range
Proper gas cooler sizing is dependent upon actual design operating conditions for each application; please contact us.
Unlike conventional direct expansion system condensers, CO2 gas coolers do not control head pressure. Rather, this is performed by other components in the refrigeration system. As such, the method for sizing gas coolers is quite different and more complex than that used for air-cooled condensers and requires the use of computer simulations. Modine is ready to assist you with your CO2 gas cooler selections.
Overview
In the near future halogenated refrigerants will be replaced by low environmental impact alternates. Building an installation today that uses increasingly expensive and regulated old generation refrigerants exposes the owner to a future of rapidly rising maintenance and operating cost. Today, there is one solution that stands out – R744 (CO2). Based on decades of experience with CO2 and thousands of successful worldwide installations, Modine Commercial and Industrial Solutions is pleased to offer a broad range of transcritical CO2 gas coolers in the same uncompromising fashion as our other commercial and industrial products.
Coil Features
Heavy wall copper tubing and advanced sinusoidal fin design for optimal performance. Coils are UL Certified to 2000 PSIG design pressure (MAP).
Casing
Casing Features
Heavy gage galvanized steel cabinet provides years of durable surface protection.
Fully baffled fan cells designed for superior performance and reduced "wind milling.
Fan Motors
The standard AC fan motors employed have the following features:
Direct drive external rotor fan motors offer uncompromised energy efficiency, low sound, and the longest trouble-free life available.
Swept fan blades are designed as part of the fan motor, not an addition to it. Dynamically balanced as a set, vibration is reduced to unprecedented levels.
Available in single speed AC or advanced variable speed EC designs for ultimate system control. Single speed fans are dual voltage and can be easily adjusted in the field.
Tall venturi fan panels add to the uncompromised energy efficiency and low sound.
Wiring
Large, weatherproof electrical enclosure is amply sized to fit even the most advanced controls. Standard equipment includes a main disconnect switch (non-fused) with door interlock and main terminal block for motor lead termination. Standard control panels are rated at 5 kA SCCR. Fully enclosed motor lead raceways to protect wiring.
Certifications
Certified to CAN/CSA Std. C22.2 No. 236-05
ETL listed INTERTEK 4002117
Conforms to UL Std. 1995
Contact Modine For More Information