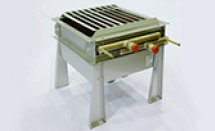 Overview
ATDI air unit heaters heat air with liquid, steam, or oil. ATDI units are designed to be sturdy and flexible with a number of possible combinations in terms of heat exchangers, motors, and casings.
SIZES
• ATDI is available in sizes 44, 55, and 66.
AIRFLOW DIRECTION
• Liquid heaters can be installed for both horizontal and vertical airflow.
• Steam heaters may be installed for horizontal airflow only.
PERFORMANCE RANGES
• Airflow up to 2.2 m3/s.
• Capacity from 10 to 75 kW (depending on the heat exchanger choice).
COIL FEATURES
• High heat exchange efficiency.
• Designed with fins of aluminum, coated aluminum, copper, aluzink coated or galvanized steel.
• Tubes of copper, galvanized steel, or acid proof steel.
CASING FEATURES
• Made of a galvanized sheet metal.
FAN MOTOR FEATURES
• Single-phase 230 V or three-phase 400 V power supply.
• Protection grade: IP 44: size 30, 33, 44. IP 54: size 55, 66.
• External or internal rotor type.
• Maximum operating temperature +50°C on air inlet, inside up to +325°C, depending on material and type of media.
• Fan impeller and protective grille made with sheet steel/wire, painted black.
MISCELLANEOUS
• One air deflector is included as standard.
TESTING
• Heat exchangers are leakage tested using dry air under water.
OPTIONS AND ACCESSORIES
• Other motors, such as spark proof motors and motors having higher IP-class.
• Other dimensions and materials than standard.
• Material for corrosive environments available.
• Broad range of accessories.
• Contact us for more information.
Contact Modine For More Information