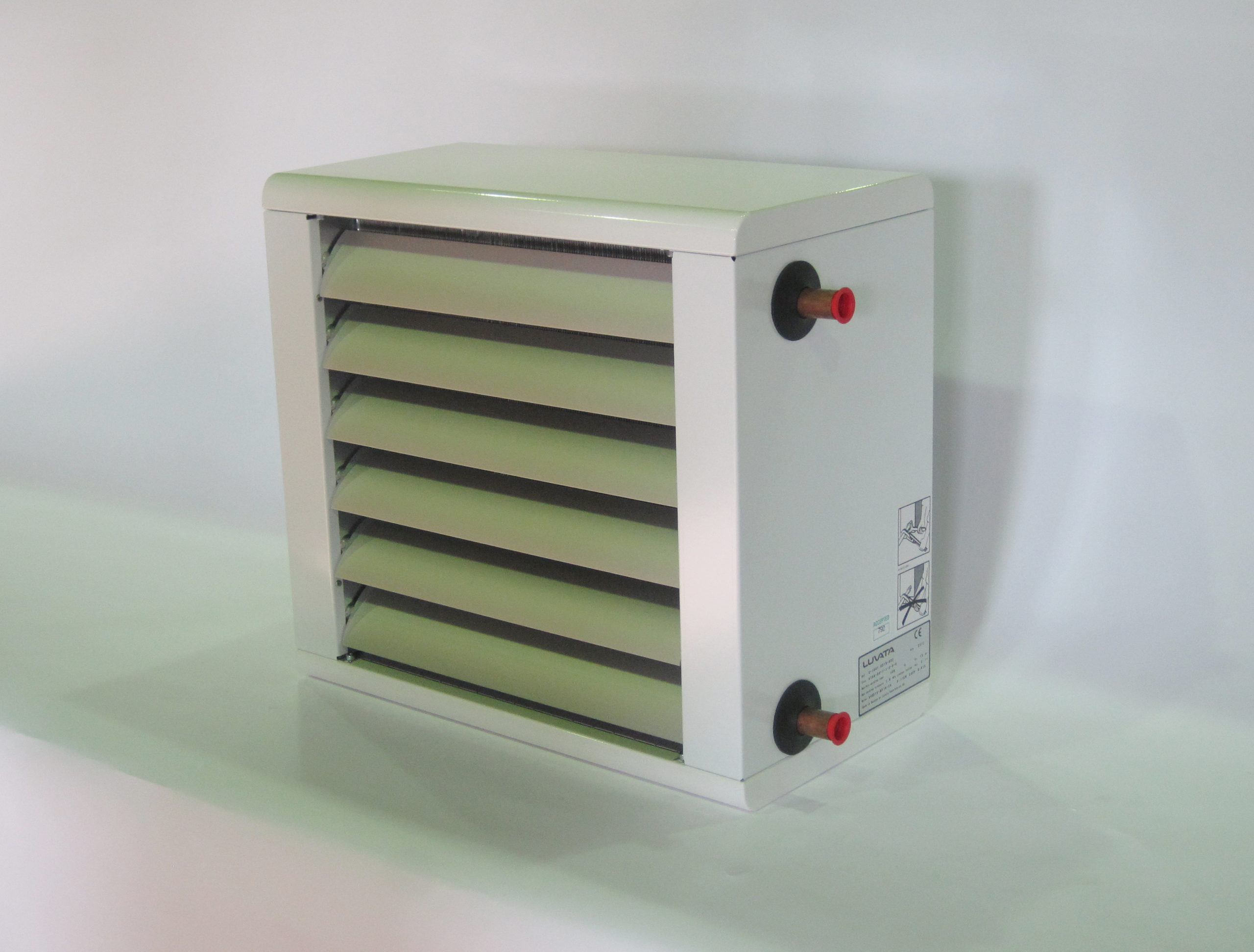 ATDA and ATDG Specifications
Overview
ATDA and ATDG air unit heaters are designed for heating and ventilating industrial, manufacturing, and retail premises, as well as warehouses, garages, supermarkets, and similar spaces.
These air unit heaters are available in two different versions:
ATDA – hot water
ATDG – steam
Both unit heater types incorporate a corrosion-resistant coil consisting of aluminum fins and copper tubes.
Openable Casing
ATDA and ATDG air unit heaters have a casing made of corrosion-resistant white lacquered sheet metal EN 1.4301 stainless steel. The casing can be opened for cleaning the interior. The roof and base are easily removed with just two screws. The water and steam pipe connections are found at the unit's side. The motor, fan impeller, and protective grille are designed as a compact and composite unit.
Sizes
• ATDA are available in sizes 33, 44, 55, and 66 (also a 30 version for low heating capacity). • ATDG are available in size: 33, 44, and 55.
Airflow Direction
• ATDA can be installed for both horizontal and vertical airflow. • ATDG may be installed for horizontal airflow only.
Performance Ranges
• Airflow up to 2.2 m3/s. • ATDA capacity from 3 to 55 kW. • ATDG capacity from 10 to 70 kW.
Coil Features
• High heat exchange efficiency. • Designed with aluminum fins and copper tubes. • Standard fin spacing 2.5 mm (2-6 mm).
Casing Features
• Made of hot-galvanized sheet steel, painted white (RAL 9010), or 304 stainless sheet steel. • Transparent plastic foil packaging also protects the unit.
Fan Motor Features
• Single-phase 230 V or three-phase 400 V power supply. • IP 44 protection grade sizes 30, 33, 44. • IP 54 protection grade sizes 55, 66. • External rotor type. • Maximum operating temperature +50°C. • Fan impeller and protective grille made from sheet steel/wire, painted black.
Miscellaneous
• One air deflector is included as standard.
Testing
• Heat exchangers are leakage tested using dry air under water.
Options and Accessories
• Other motors, such as spark-proof motors and motors having higher IP-class. • Other dimensions and materials than standard. • Material for corrosive environments available. • Broad range of accessories.
Contact Modine For More Information