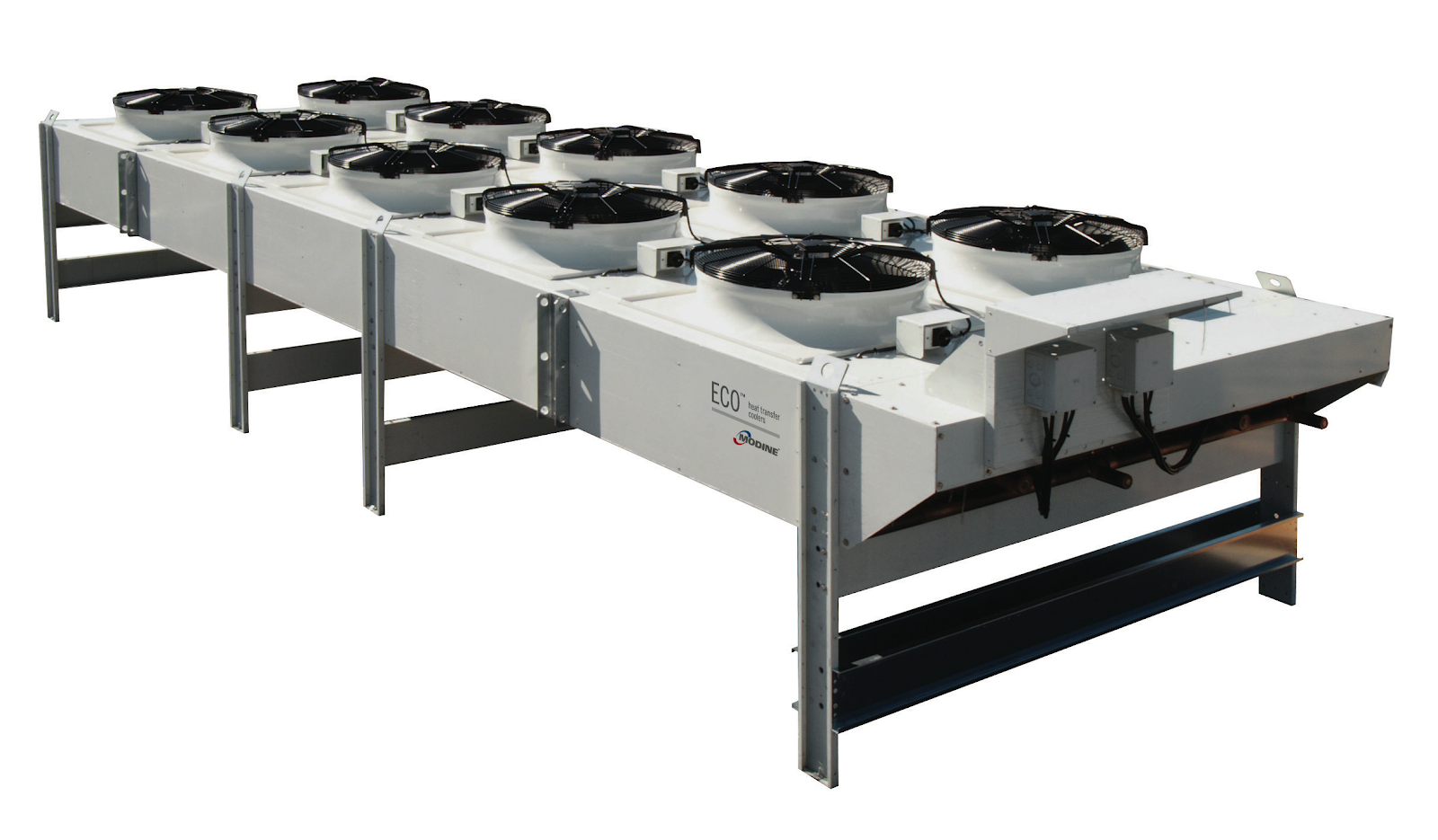 Applications
Commercial AC
Refrigeration systems
Close control
Precision air conditioning
Data centers
Capacity Range
Nominal performance data is provided as a general guideline only. Due to variations in actual design conditions and coil circuiting, there are a vast number of possible solutions to meet the requirements of each application.
For the most accurate performance specifications, the use of Modine software – Modine Select – is recommended. Access to Design Tools is available on-line at www.modineselect.com/na or, contact your Modine Sales Professional for assistance in selecting the best model for your application.
Overview
ECO™'s 500 – 800mm Series fluid coolers are available in single wide configuration from 1 to 3 fans 500 mm and from 1 to 7 fans, and double wide configuration from 4 to 14 fans 800 mm.
Each configuration is available with single speed single or 3 phase fan motors for 500 mm and single speed 1100 rpm or 500 rpm fan motors for 800 mm.
For both diameters, variable speed electronically commutated (EC) fan motors are available.
Coil Features
Standard coils are built from smooth wall copper tubing with sinusoidal aluminum fins for optimal performance. Coils are circuited to maximize heat transfer and minimize pressure loss. Standard connections are steel pipe (MPT). All Modine fluid coolers carry a design pressure rating of 320 psig.
Vent and drain located so that unit may be mounted for vertical or horizontal airflow.
Casing
Casing Features
Pre-painted galvanized steel cabinet provides years of durable finish protection and ascetics. Field proven with over 25 years of experience.
Fully baffled fan cells prevent "wind milling" and enhance performance.
Fan Motors
Direct drive external rotor motors offer uncompromised energy efficiency, low sound, and the longest trouble-free life available.
Single speed 3 phase fan motors are dual voltage and can be easily changed between 208-230V and 460V in the field.
Swept fan blades are designed as part of the motor, not an addition to it. Precise matching of these two components increases energy efficiency and reduces sound pressure to unheard of levels.
Optimized venturi fan panels add to our uncompromised energy efficiency and ultra-low sound.
Wiring
Large, weather-proof electrical enclosure is amply sized to fit even the most advanced controls. Standard equipment includes a main disconnect switch with door interlock and a main terminal block for motor lead termination. Standard control panels are rated at 10 kA SCCR.
Fully enclosed motor lead raceways to protect wiring (800mm models).
Certifications
Certified to CAN/CSA Std. C22.2 No. 236-05
ETL listed INTERTEK 4002117
Conforms to UL Std. 1995
Contact Modine For More Information