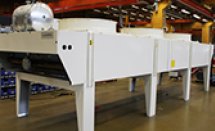 Overview
Already adopted by some of the global diesel and gas engine giants for installation in large power generation plants, DK units are the result of close cooperation among different Modine units in Europe. They meet or exceed the latest industry requirements and allow for a variety of customization and special options.
Material combinations and corrosion protections were developed to suit the demanding environments of many industrial sites around the globe.
DK units offer low noise levels and optimized energy consumption to maximize the environmental compatibility for the specific application.
As with other Modine products, DK units also have a wide range of options, some of which were included in the original product design that originated from a concept that included up to 7 modules. There's also a wide choice of standard impeller diameters.
Motor and Technical Data
Basic models include optimized ventilated axial sections equipped with asynchronous rotor fan-motors that meet the strict rules on energy efficiency set by the ErP 2013/2015 directives
Special fan-motors with electronic commutation (EC) control are available to meet specific needs
Maximum working pressure 0.6 MPa
Test pressure 0.8 MPa
Maximum working temperature +99°C
Minimum working temperature -20°C
Power range at 35°C ambient temperature and 70/40 30°C water temperature up to 3 MW
Contact Modine For More Information