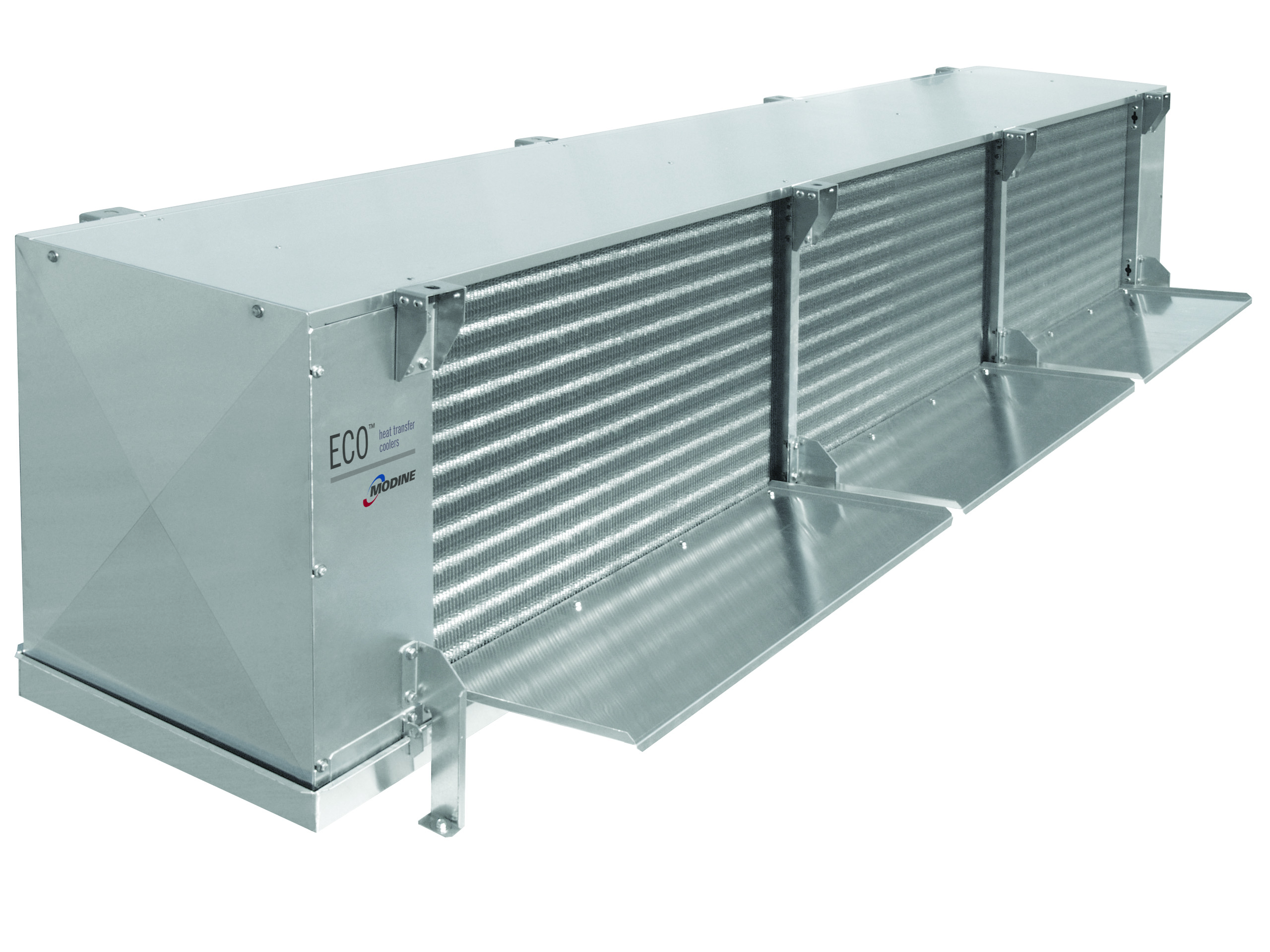 Applications
Large refrigeration cold rooms, refrigerated warehouses
Capacity Range
Unit coolers: EMEA from 11,6 to 55,5 kW
Unit coolers: APAC from 12,5 to 59,9 kW
Brine coolers: Please use Scelte selection software
Overview
Range consists of 16 customizable models.
The technical and manufacturing specifications are based on the demands of market sector specialists, namely: blow-through fan motors with airflow on the heat exchanger, reduced height to optimize the thresholds for loading/unloading, and minimal lateral condensation drains.
Upon request, the models may be supplied with non-standard coils, defrosting systems, and fan motors.
Coil Features
The entire range is equipped with high efficiency coils made from special profile aluminium fins and smooth copper tube, optimized for brine pump circulation.
Casing
Casing Features
Made of a magnesium aluminum alloy, with a smooth finish covered by a plastic protection film
To facilitate maintenance, a new concept drain pan has been developed with hinges on both sides
The flush-mounted fixing brackets exclude any possibility of harmful substances building up between the unit and the ceiling
All models are equipped with baffles to direct the outlet air upward, thereby guaranteeing a greater air throw due to the "Coanda effect", that is the tendency of a fluid (in this case air) to follow the contour of a nearby surface. These baffles also prevent the low temperature air from blowing directly on to the stored produce, and avoid immediate air circulation in the intake area
Fan Motors
The standard AC fan motors employed have the following features:
Ø 350 mm:
AC fan motor
fan motor module: from 3 to 8
single-phase
230V/1/50-60 Hz
built-in electric capacitor
epoxy coated steel fan guard
Ø 450 mm:
AC fan motor
fan motor module: from 3 to 6
single-phase
230V/1/50-60 Hz
built-in electric capacitor
epoxy coated steel fan guard
Ø 500 mm:
AC fan motor
fan motor module: from 5 to 6
external rotor
three-phase
400V/3/50-60 Hz
epoxy coated steel fan guard
Defrost
The versions with standard electrical defrost ED are equipped with stainless steel heaters with vulcanized terminals preset for 400V/3/50-60Hz connection
Wiring
The units are preset for earth connection and the heaters are connected to IP 54 protection grade terminal boxes
Certifications
CE
PED
TÜV SÜD (Please see cerfified model list on the catalogue)
Contact Modine For More Information